Senior Nutrition Program's Cafe Costa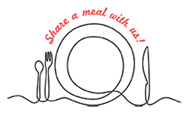 At Café Costa, we connect friends, neighbors, and community while sharing good, nourishing food. We are dedicated to serving delicious, nutritious meals in a warm and friendly environment.
Since 1974, our cafés have been a welcoming place for adults aged 60+ to enjoy a well-balanced meal in the company of others. Come with friends or make new ones.
Eligibility
Open to adults aged 60+ and other qualifying individuals.
Make Your Reservations
Call your local Café Costa by 11am the prior business day to join us for lunch. Any changes or cancellations required by 11am the prior business day.
Cost
No membership is required. Only a small voluntary contribution is suggested.
Café Locations
Lunch reservations required at least one business day prior. Please contact Café Locations for days and times of operation.
Central Contra Costa County