Contra Costa is a welcoming county for refugees, immigrants, and all community members.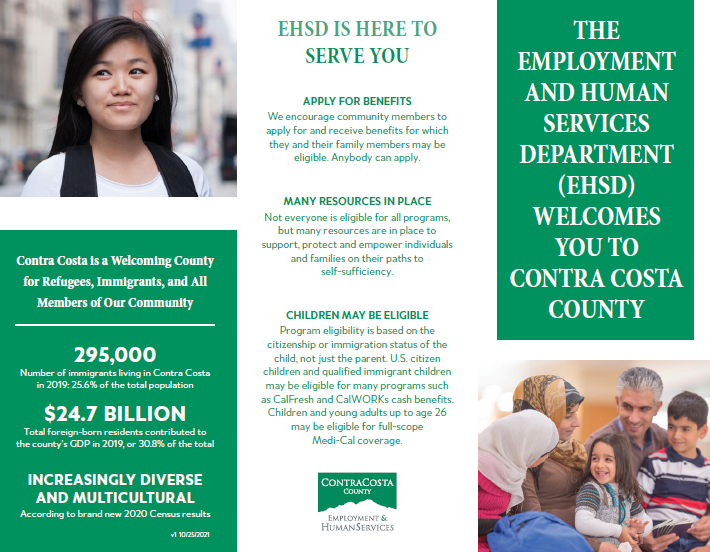 Click below to view and download the brochure above.  
English | Spanish | Chinese (traditional) | Chinese (simplified) | Tagalog | Farsi  | Korean  | Vietnamese  | Dari  | Pashto
Afghan Community Members Resettling In Contra Costa
We encourage community members to apply for and receive benefits for which they and their family members may be eligible. On September 30, 2021, the United States Congress passed a new law expanding federal benefit eligibility for Afghans who are granted humanitarian parole during a designated time period. Even though not every program may be available due to eligibility factors, there are still many resources that support, protect, and empower individuals and families as they are on a path to self-sufficiency.
State of California Resources and Information
Afghan Arrival Response (ca.gov)
---
Public Charge
On September 8, 2022, the Department of Homeland Security (DHS) published a new Final Rule on Public Charge, to become effective December 23, 2022. It formally reverses the prior Administration's rule and restores the decades-long, historical understanding of a "public charge." This means that supplemental health benefits such as Medicaid (Medi-Cal) and nutritional assistance such as SNAP (CalFresh) for which immigrants may qualify will not be considered as part of the public charge inadmissibility determination. The new rule also clarifies that DHS will not consider in public charge determinations benefits received by family members other than the applicant.
Joint Statement From CalHH Leaders on New Public Charge Rule
Latest on Public Charge Immigration Legal Resource Center 
---
DACA Update
On August 24, 2022, the Department of Homeland Security (DHS) issued a new Final Rule, meant to fortify the Deferred Action for Childhood Arrivals (DACA) policy. The DACA policy was instituted in 2012 through a DHS Memorandum. Formalizing it in a Final Rule is intended to put the policy in a stronger position  with respect to future changes or legal actions.  The new rule will become effective October 31, 2022. For more information click the link below: 
Deferred Action for Childhood Arrivals (DACA) Final Rule Summary
---
Resources
If you need legal guidance related to immigration, we encourage you to seek guidance from a reputable immigration service provider or an attorney. Below is a partial list** of resources that may be helpful.
Asian Pacific Islander Legal Outreach
www.apilegaloutreach.org
Bay Area Legal Aid
www.baylegal.org
Catholic Charities
www.cceb.org
Immigrant Legal Resource Center
www.ilrc.org
Immigration Advocates
www.immigrationadvocates.org/nonprofit/legaldirectory/
Keep Your Benefits
Keepyourbenefits.org 
Tus Beneficios Públicos
http://tusbeneficiospublicos.org
Protecting Immigrant Families
protectingimmigrantfamilies.org/know-your-rights/
Stand Together Contra Costa
www.standtogethercontracosta.org
** Inclusion of an organization does not imply endorsement of its services, nor does exclusion reflect on any agency's contribution to the community. 
Click on the image below to view U.S. Representatives in Contra Costa County